Does ANYONE have any additional info on Yamaha's 2016 Electric bike they had shown?





I would like more people's opinions on what would motivate you to buy an electric motocross bike or not buy one. Please read my post before replying if you have the time and note since writing this thread earlier the company referenced as BRD is now re-named as Alta Motors out of SF California

I've been following and watching these EV (electric vehicle) Motorcycle companies the last few years and I must say I am more than impressed with what is being accomplished, especially in the Road Racing world. The charge times have now gotten as low as 30 minutes (you can even charge these off of a portable or mounted solar panel fixture on the roof of your trailer) and range has improved as much as up to 200 miles per charge on a competitive sport bike (see Lightning Motorcycles LS 218 model and Brammo, Mission Motorcycles). While the EV MX bike is not quite a total reality to the open market TODAY, it will be in coming months. Currently the there are few "Motocross" styled EV bikes out there from Zero Motorcycles, Quantya EVO1/2, and the lately popular KTM Freeride E. Now I've seen all these in action and have read through countless reviews and though they are all incredible electric motorcycles that are created for the dirt, they don't quite hit the mark when it comes to becoming the next best mx bike to go the fastest around a track on. They are all fun and serve a great purpose to a wide audience of enthusiasts and trail riders but the motocross track racing individual would feel disadvantaged on the starting gate lined up next to the latest 250f's at this point in time.

This is why I've had my focus on a silicon valley based EV Motocross bike company called BRD Motorcycles. Their sole mission is to create an EV MX/SM bike that can compete DIRECTLY with the 250f competitive motocross/supermotard bikes today. Here's a quick pic: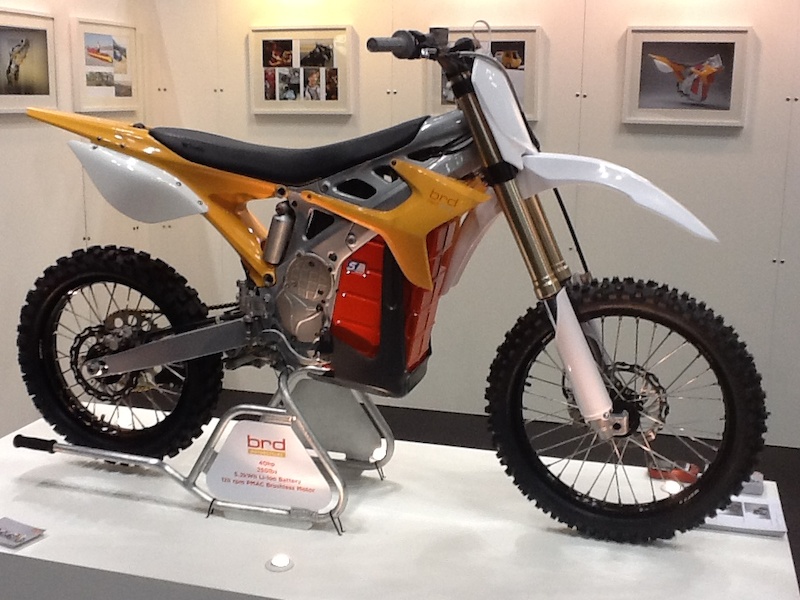 Now this was their 2012 prototype that claimed some very competitive specs in 2012. Since then, they have completely re-designed the battery packs and power delivery process with some very unique proprietary designs. Here's a quick overview of the TCO of their MX version vs a CRF250R (same as the sm version but for mx) KEEP IN MIND this was the circa 2012 Prototype model and since then improvements have been made.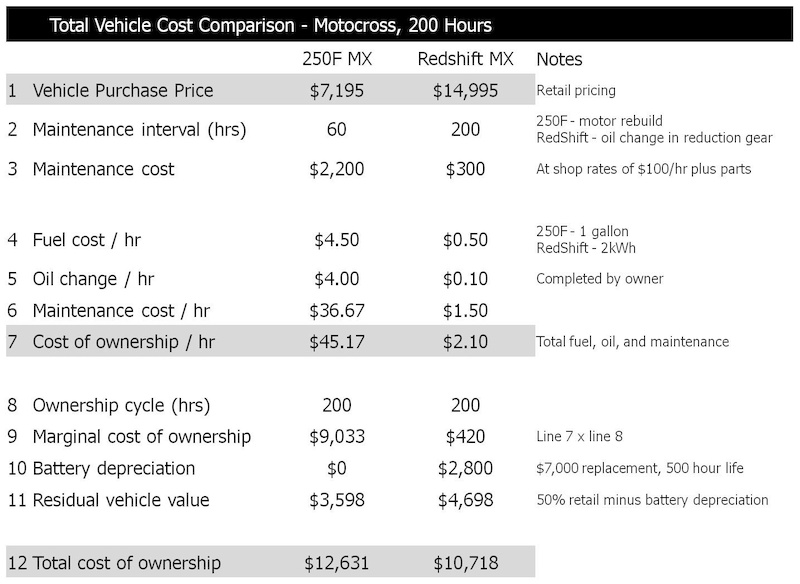 Now I know some of you do your own maintenance and such but take this at face value and understand that these vehicles require less overall maintenance and as time progresses the cost to manufacturer to build these "simpler" motors will decrease as well, bringing the cost down to you.

Look at the spec'd performance from 2012 on the BRD Redshift MX and Redshift SM

[img]http://i2.wp.com/www.asphaltandrubber.com/wp-content/uploads/2011/09/BRD-RedShift-technical-specifications.jpg?zoom=1.5&resize=635%2C309[/img][/img]

Now considering these specs from the 2012 Prototype model, and the information you can find on updates made in the BRD garage: http://www.altamotors.co/ the actual expected 2015 models should have increased RANGE by 2/3s and DECREASED time to charge.

Here are a few links to some of their bikes in action from the local 408mx track with Kris Keefer to some trail riding with Kevin Butler...


Niche Wisdom With Kris Keefer from Alta Motors on Vimeo.
Kevin Butler Ripping Through Trails from Alta Motors on Vimeo.
There are def concerns around this direction in terms of viability long term and environmentally awareness so here's some relevant info...
Here's an article discussing the ability to recycle these Lithium Ion batteries in a more efficient way than motor oil today and it seems that they've started developing the plant infrastructure for this EV movement back in 2009.
Feel free to read up and see what you think:
http://www.scientifi...icle-recycling/
For those of you worried about sound, not only do I feel like at full rev the bikes sound like a crazy supercharger hissing and winding out but with technology today and the fact that these bikes run off of software that is COMPLETELY tuneable to your desires, I'm CERTAIN there will be companies developing downloadable engine note sounds from YZ125's to RMZ450's that will match rpm of the engine and if you want to be bombarded by the moto sound then you can, if not you can enjoy your ipod like i will be doing
Now I know every state is different but in CA the EV government rebates bring the price wayyy down to comparable or better than a new CRF250r or KTM250sx with lesser performance (we'll see how true this statement is once the Alta is avail to race).
Here are a few rebates in CA listed on Tesla's site:
http://www.teslamoto...s/US/California
Here's some background as to how used motor oil is somewhat efficiently recycled today:
http://www.scientifi...il-be-recycled/
What other hesitations do you guys have about riding these EV bikes? Not saying get rid of your ICE bike (I'm never selling my CR250 or my thumper cuz i love them) but what about adding this to your arsenal of speed slaying bikes?
I guess one thing I've been curious about is how these things jump because aside from the little jumps in the videos I've posted and seeing Brian Deegan backflip the Quantya EVO1, I have reservations as to how these bikes will do on an SX track with all the rhythms and such.
Furthermore...
Some more information that might help answer some common questions you may have about Electric Motocross bikes and how they fit into this industry/market/user environment.
Water crossings
There are riders wondering about what happens when you cross a creek with the electric bike. Streams are generally low salt content. These motors will actually run under water, not that it would be good for the motor, but the water is not involved if current does not flow in it. Any current that does flow is localized inside the motor compartment and chassis. It would NOT go around and kill fish in the steam, and it would not shock you if you are standing in water hanging onto the metal bars. The currents stay locally inside, positive terminal post to negative terminal post.
This is very unlike the AC power grid where power is relative to earth and wants to find any conductive path to ground, including through a person strongly coupled to the earth standing in water…

Environment
Coal fired power plants thread: Some claimed an electric motorcycle will worsen the global warming problem as compared to motorcycles using fossil fuels because it will burn more coal!
Not only is there less net emissions from electric vs gas power (because of the significantly higher efficiencies of electric motors vs gas engines), the percentage of power from coal is very low, especially here in the Pacific NW. The source of this power can come from renewable sources at any time.
In fact, we buy our power from renewable's already so there is no coal burned for the electrons when charged here. Taken to the next step, the energy can come from your own roof from panels that are now guaranteed for 25 (some even 35 years) and that pay for themselves in 10 to 15 years.
Imagine a day when you pull your electric dirt bikes to the riding area with an electric rig (with a large capacity pack, charged off the AC line during off-peak hours). This allows for very fast charging of the dirt bike packs because of the very high current/power available in a vehicle size pack.

Competition
This form may eventually lead to a new racing classes in the motocross world. Until our energy density is where it needs to be for full length motos, we may need pack swapping capability for racing, sort of like NASCAR. Smooth lines and techniques (better use of the energy) allow a rider better distance/kW giving a new skill requirement in EMX events. We hope to see SX length charge capacity soon.
Noise-wise, keep in mind, full on aggressive track riding will not be totally silent! You will still feel the landings and ground contact like the gas bikes on a rough/mx track so it isn't a complete bore for spectators. Now you might hear the riders yelling at each other, as well as the riders having a chance to hear those at track side.
When on trails with hikers, the chain noise alone makes an early announcement so you can't really sneak up too close on people. Silence is all relative.
Attributes/Benefits of electric bikes that are difficult or impossible with gas powered bikes:
Massive low end torque starting at zero RPM. No clutch needed for a controlled launch. This will excel in trials riding and on tight/technical trails in the woods.
Silence, relatively speaking.
Continuous acceleration from 0 – 55mph (with current gearing and single speed)
Very little vibration.
No warm up period. Just turn it on and go full on.
Powered from your own solar panel if so inclined.
Throttle curve customizing with ease, just plug in your laptop.
Little maintenance.
No fluids (other than brakes and shocks)
No exhaust. The indoor tracks can now retain their heat without the need for massive ventilation fans which still leave lingering exhaust fumes.
No spark arrester needed, there is little heat to begin with. This means significantly less fire danger. These cells have inherently safe chemistry that will not explode or burn, unlike the batteries in cell phones and laptops.
Simple cleanup. When the complete drive system is enclosed there is much less to clean. A quick shot with the pressure washer and the bike is clean.
Street legal opportunity. These bikes can now be made legal for dual purpose mode. The broad federal sweep of emission control implemented on January 1 2006, banned all bikes with the statement on the title "for off road use only" from street use. This was strictly for emission control reasons. We know this from Bob's (our founder) personal experience he had with this matter in 2006 with DMV/DEQ. His Oregon DMV department will grant licenses once they see directly there are no emissions involved and has all the normal required equipment.
Energy Density – Comparing gasoline with Lithium Ion
Some forums are talking about the comparison of the energy density between batteries and gasoline. It comes down to: how much energy can be carried in a given volume and weight? To help put this in perspective, here are the numbers that show the energy content difference as well as the various losses delivering the energy to the drive wheels.
With these specific cells (A123 Systems), the difference is 111 times.
However, not all the energy contained in fuel generates is power that gets applied to the rear wheel. The reality is gas engines are only 30 – 39% efficient, where the majority of energy is lost as heat off the motor and exhaust.
The energy difference is then actually (111 * 0.3 =) 33 times, assuming you get the power from renewable sources like we currently do.
This is very poor efficiency at 30%. Even worse when you also include the extraction, refining, and distribution costs that significantly contributes to the overall impact. If the same fuel is used in a electric power generation plant, greater efficiencies allow much more power to be made available in the form of electrical current.
The power grid delivers this energy with little loss to all of us end users already. The transmission and distribution losses in the USA is ~7.2%
This brings the energy difference up to (33 / 0.93 =) 35 times
The electric motor efficiency is in the 90 % area, depending on throttle position all the way to the driving of the rear wheel. There is little heat loss in the drive system, especially with motors with high current capability.
This brings the difference up to (35 / 0.9 =) 39 times
Now when you factor in the weight of the gas engine at 2 times the weight of the electric motor for the same output, the difference is made with more cells, meaning a higher ratio of the total bike weight is now holding energy.
Net result, delta is down to (39 / 2 =) 19.5 times
When you consider the typical ride (or moto) uses half a tank of gas on the average, and this is still considered an "acceptable" ride, this means another half of the difference;
(19.5 / 2 =) 9.8 times
Now for the speculative part (but probable since A123 has the new recipe): Because of the intense research and development effort being put into this lithium storage technology around the world (for EV use primarily), there is potential for new developments that will help extend the range enough to match or exceed the range of gas powered bikes.
Source:
http://www.evdrive.com/
This information might be a few years old but still addresses many questions most mx riders may have about these EV bikes.
Thanks for reading and looking forward to hearing your thoughts!
Shelby