munch
8/25/2017 12:58pm
Edited Date/Time
8/26/2017 8:14am
I bought a RMZ 250 2009 non-runner as a project to learn more about 4 strokes and how they work, I have been riding 2 strokes for a few years now and have completely rebuilt a fair few, I am confident with a 2 stroke motor however 4 stroke is a different story! 
The story behind the bike:
Guy took it in part exchange, the guy rode it in the street to prove it works and once he left it never started again.
Once I got it home I noticed it had lots of sealant under the engine where the 2 cases meet (assuming it is leaking oil). When the bike is kicked I could feel a lot of air coming out of the top gasket (black seal between rocker cover and head). I replaced the seal which fixed that problem.
When fixing the above problem I also checked valve clearances and all were within spec except one inlet was 0.001 out, I left it as it was.
Next up was the carb, all of the adjusters (aftermarket easy adjuster knob things) seemed so off. I think the fuel screw was about 4-5 turns out, no wonder it didn't start! It felt like someone had just been turning them hoping it did something. I reset both adjusters I could see to 2 turns out.
Next up I pulled off the carb manifold and it came off in 2 pieces! It was held together with some tape, I replaced this and it fired up!
So here I am, the bike now fires however absolutely nothing about the bike sounds right. I needed to turn the idle screw quite high to start it (could need fuel screw adjustment?) however once started I can turn it down and it will idle OK. I can ride it around my field however it gets really hot really fast and I haven't rode it for longer than 1-2 minutes as it feels like it is about to blow up on me.
The only thing I noticed is that the timing chain feels a lot more tensioned now I have put it back together compared to how it was when I first opened it up, is it possible I messed something up? I believe the tensioner is an automatic one, pic below of how it looks.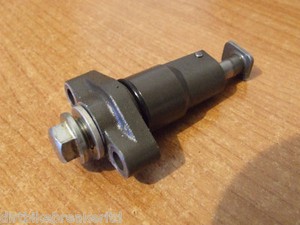 Video of the motor running - 
https://www.youtube.com/watch?v=h2oB5fixdmg&feature=youtu.be
What should be my next step?