http://abclocal.go.com/kfsn/story?section=news/entertainment&id=8340352

Green Day frontman kicked off flight over saggy pants
Friday, September 02, 2011
Green Day lead singer Billie Joe Armstrong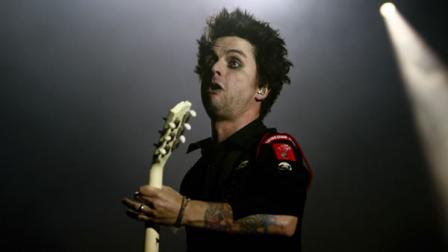 (AP Photo)

OAKLAND, Calif. -- Green Day frontman Billie Joe Armstrong says he was kicked off of a Southwest Airlines flight Thursday night for wearing his pants too low.

The Bay Area rock musician was traveling from Oakland to Burbank when the incident occurred. "Just got kicked off a southwest flight because my pants sagged too low! What the f**k? No joke!" Armstrong tweeted Thursday night.

7Live Associate Producer Cindy Qiu was on the flight and witnessed the incident.

Related Content

Story: Demonstrators deliver 40k signatures to US Airways

Story: Saggy pants flier to sue U.S. Airways

Story: DA won't file charges against saggy pants flier

Story: NAACP joins man arrested on US Airways flight

Story: Does lingerie-clad man prove airline double standard?

Story: Exclusive: Student talks about saggy pants arrest

Story: Man thrown off flight over pants speaks out

Story: Man arrested for not pulling up pants on plane
"Basically, all the passengers were already seated, we were ready to go, they had already told us to start to turn our cellphones off," she said.

Qiu said that Armstrong was approached by a flight attendant and told to pull his pants up. Armstrong initially dismissed the request, asking, "Don't you have better things to do then worry about that?" When the flight attendant repeated the request and threatened to have Armstrong removed from the plane, Armstrong relied "I'm just trying to get to my f**king seat."

Armstrong and the person he was traveling with were then removed from the flight.

Southwest responded to Armstrong's gripe soon after with a tweet of their own. "Very sorry for your experience tonight, someone from our Customer Relations Team will reach out to you to get more details."

This comes on the heels of an incident on June 12 when a University of New Mexico football player was booted from a U.S. Airways flight bound for Albuquerque from San Francisco over his saggy pants. Deshon Marman is now suing the airline over the incident.

ABC7 News contacted Southwest, which declined to comment at this time.