Remember Marc Estabrooks? Maybe not, but you remember his cartoons, that were featured in many of our Engine Ice ads, there was a series of RacerX RacerBoy cartoon trading cards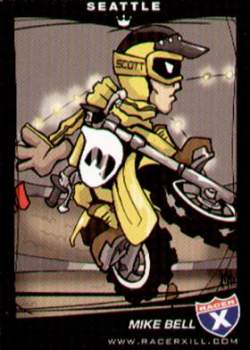 Cartoons after each race for Vurbmoto

[LINK TO IMAGE]


He did art for a lot of magazines and even did stuff for Atomic Skis that won awards in the snow ski industry and was even featured on NBC during the Winter Olympics

Well, several of us who were his close friends got word yesterday and last night that they found his body out in the St Lawrence River near Montreal on Friday. Marc had struggled with psychological issues for many years and would occasionally go off his medications, resulting in him becoming someone manic, even depressed. No one knows why he went into the river, maybe he thought he could swim across or swim to some place better.

Marc did a lot of work for Engine Ice. Marc was my friend. I did all I could to help him. Marc also worked for Bell Helmets, did work for Matrix, I believe doing some of their initial design and graphics work and created tons of art for us, and even Marty the Bear you see in my profile.I haven't seen Marc in a while, since he went back to Canada, and I have missed him, and now miss him even more.
Terrible loss for the MX art and graphics community.

The demons are gone my friend, you may now rest, and rest in peace. Godspeed.







This great Nation will endure as it has endured, will revive and will prosper. So, first of all, let me assert my firm belief that the only thing we have to fear is fear itself. - FDR



[LINK TO IMAGE]
"Grant money is not pork" - Rep Allen West