RIP Georges Jobe
Heard he had cancer. Bummer. One of the greats.
that's awful news. I just watched a video of him from 1991 today on youtube, thoughts with his family and friends.
Well, that's a shock. Man, defintely leaves a void. I agree, one of the greats.
Look at that pale crazy white guy with both fists up in the air like yyyyeeeeeaaaaaaaaaaaaa.

"No doubles"
RIP. I was sad not to see him at Farleigh this year.
.

God Speed Georges Jobe!

.
Arkmx.
Jim G.

Thanks to our sponsors!
Lucas Oil-MavTV, Engine Ice, Factory Connection, Pro Clean, Fly Racing, EVS, Oakley, Ryno Power, Stickman Grapix, MotoHose, Kenda, FMF, Raines Racing, Shock Sox, Ride 365, AEO Powersports, JTG Racing.


Guys like Jobe, Danny Chandler, they're immortal.
Thanks for your contribution to moto Georges, RIP moto legend.
Man, he was a hell of a rider and he kept Eric Geboers honest. He will be missed.
This past weekend I just watched the 1985 World Supercross finale at the LA Coliseum and they had an interview with him and I started wondering what he was up to these days.
Condolences to family and friends,
another MX Legend gone too soon, RIP Georges,

Cancer Sucks,,
RIP Georges Jobe ...a true legend of GP motocross !
RIP Georges
Jeff Emigs Keys to the Race:
1. Get a good start
2. Don't crash
Pretty sad right now. He really had a tough time the last few years and he just kept fighting until the end. Remember interviewing him a little while ago on skype and he remained positive about recovery.

Geoff
Damn.

What a great racer and person. Had the enjoyment of talking with him at length back in 2002 at the Vintage Iron World Championships / Yamaha Race of Champions event at Glen Helen discussing his air suspension systems. Still have his business card in my desk at home. So cool to see him racing motos on a YZ125, YZ250F, YZ250 and YZ426 over the course of the weekend. RIP sir.
Damn cancer.
RIP Georges.
I don't trust any "Joined Date" later than 2012
Very sorry indeed to read that. RIP.
A True Racer and one of Moto's Best "Rockstars"!
"Doesn't mean that much to me, to mean that much to you"
RIP Georges, always liked to watch you at Unadilla.
]

Anytime I see a "bomb hole" at a track I default to that picture of him jumping over Malherbe in my head. I was 6 when he won his last GP championship. In recent years I've spent hours looking back on old seasons and races I missed out on during my infancy and un-existing years. Anytime I see or hear that name I perk up from all of the visuals I get from watching those old races.
first of al ,rest in rip.
secondly,why are so many deaths this time of year.i cant take it.its too fucken many.
A racers racer. I remember when he and Eric Geboers were in a race to see who could be the first to win a championship in all three classes over their career. Only Eric had done it the normal way, 125 first, then 250 and then was trying for the 500 title. Jobe had to move back to the 125 class when he was already an old man. He still went well if I remember correctly, but he didn't win the title and Geboers did win his. RIP Goerges, always a fan of yours...............
Damn!.....Georges was one of my hero GP riders when I was really young. A legend in the GP ranks for sure......and the MX community lost a good one with that dude. RIP Georges.
And there goes Jeffro. One of God's own prototypes. A super high-powered mutant of some kind never even considered for mass production. Too weird to live, and too rare to die.

Pimpin' Ho's , Rollin' fatty's......drinkin' beers , beers , beers!! ~ Ja


Rest in peace. We've lost another legend of the sport.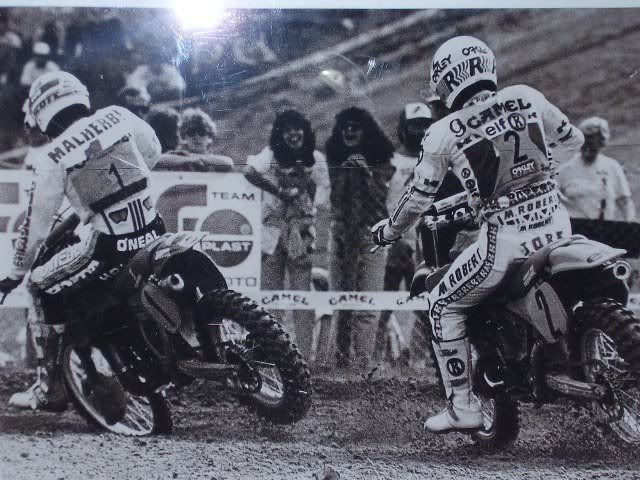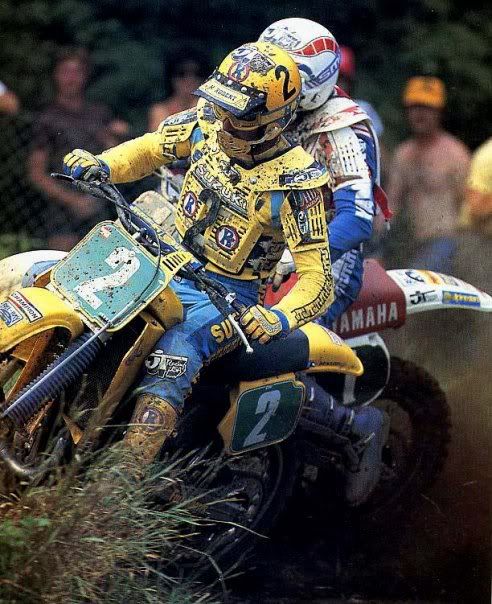 Wandell wrote:

Rest in peace. We've lost another legend of the sport.



X2
"It always seems impossible until it's done." -- Nelson Mandela
"BECOME A BETTER RIDER"
10% OFF code: vitalmxgsmxs




Gary Semics MX Schools and Technique DVDs